Twin Wire Loop Booklet Printing Online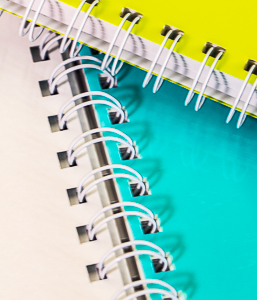 Twin Loop binding has many names. It is sometimes called Wire-O Binding, Double-Loop, Duo-Wire, Double-O, or simply Wire Binding. Wire-O binding is more sophisticated in appearance than spiral binding. It produces a very impressive high-end looking booklets. It can accommodate pages and inserts of varying thicknesses, including dividers or index tabs made from heavy cardstock.
The Wire-O binding method uses pre-formed pairs of wire loops that run along a C-shaped unit. After the holes have been punched through the book's cover and pages, the wire loops are inserted through holes and then closed together until they form a perfect circle. That secures the cover and pages as an assembly still allowing them to open freely.
A Wire-O bound book can be opened a full 360 degrees and yet still remain flat. So it can be opened on the page you need and it will still take up minimal room on a desk or table. This makes Wire-O binding a great choice for instructional books, music books, cookbooks, reports, directories, atlases, travel guides and maintenance manuals.
The difference between Twin Loop booklet and perfect bound or saddle stitched booklets is that the pages of a Wire-O bound book have no spinal tension in them. The pages of a Wire-O bound document will stay in place without having to be continually held open to view the contents. It is an ideal feature for a manual, a workbook or journal.
Wire-O binding method is great for creating items that are going to be hung, so it is an obvious choice for wall calendars. Wire-O loops are available in different sizes create books of varying thicknesses with low page counts or high page counts. For thicker books the loop diameter and the wire gauge has to be larger. Wire-O binding is also available in silver metallic and in a variety of painted colors.
Wire-O binding online is often the best choice for bound projects that require tabbed page dividers – such as a report, presentation, training manual, directory, etc. Dividers with printed tabs are the perfect complement to any reference document. They allow the user to quickly locate a specific page or topic. Wire-O binding online is particularly popular for shorter production runs.