Saddle-Stitched Booklet Printing Online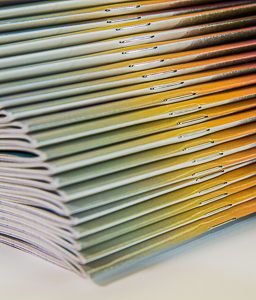 You will often see saddle stitch book binding used for booklets, notebooks, workbooks, playbills, catalogs, children's books, promotional books, event programs, coloring books, magazines and other publications.
A stapled or in other words saddle-stitched booklet is one of the most common pieces of printed material. It is created when you need multiple pages bound together. Many businesses and organizations have found saddle stitching to be perfect budget friendly solution for hand-out materials used in meetings, workshops, seminars and tradeshows.
Saddle stitch binding does not contain any 'stitches'. The saddle stitch books are always designed in four page increments. The pages are created from single sheets of paper. The information is printed on both sides. Pages are then folded in half and stapled on the fold.
Each sheet of paper contains 4 pages thus your file must contain pages in multiples of 4. If your book has an odd number of pages in order to use saddle stitched booklet format you will need to insert blanks or additional pages.
While designing your saddle stitch booklet you have to keep in mind that the minimum number of pages for saddle stitch bound books is eight. Also important is that the maximum number of pages is 64.
Saddle stitch binding is a popular choice for anyone wishing to create a thin booklet. If your project requires more pages we recommend our Spiral Bound Books, Perfect Bound Books or Twin Wire Booklets.
Printing your saddle stitched booklets online with Fotex is as easy as 123.
» 1 - Select your options
» 2 - Upload your files
» 3 - Checkout!