Brochure Printing Online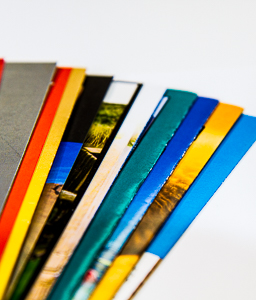 When you order brochure printing online from Fotex you create a powerful tool that will be used throughout your sales process.
Company and product brochures are a very necessary part of any marketing mix. Show the value of your company to prospects with custom brochure sizes, specialty papers, and engaging folds for your business brochure.
Apply metallic foils, shiny spot coating & CMYK plus white Whiteography printing to add a polished touch that captures the attention of customers.
Remember that your brochure is much more than a list of bullet points. With custom brochure printing, the choices are endless.
Keep your audience in mind and let your imagination guide you while designing your company and product brochures.
Upload your own design or let our skillful designer team develop your brochure the way you want it. Fotex will save you time and money.
Just call 858-228-7697 to use our professional graphic designer services when developing your brochure and we'll help you choose a design that will set you apart from the competition.
With evocative imagery, high quality print, powerful precise language and fewer and better pages there's almost always a more effective way to construct a brochure.