Rack Cards Printing Online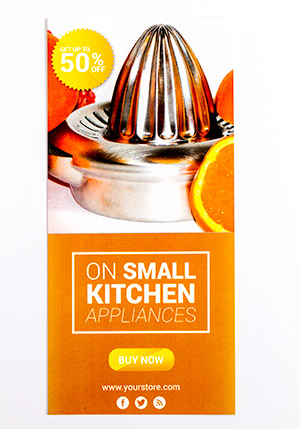 Almost any business or organization will benefit from using rack cards as their marketing tool.
They are popular for tradeshows, lobbies, showrooms, reception waiting areas and Point of Purchase (POS) marketing. Rack cards also have widespread use in the tourism industry.
The marketing message must entice people walking or standing nearby because in most cases, rack cards are geared toward foot traffic.
Rack cards must be designed to grab and hold a prospect's attention. This is achieved through the creative use of brief but persuasive text, compelling colors and engaging images.
Rack cards often use gloss coating and other types of finishing touches to add sheen and increase the vibrancy of the ink colors.
Though relatively simple in construction, racks cards are actually very versatile. In fact, they can be printed with any layout you choose and feature your promotional offers, upcoming events, information about products or services, contact info, directions, discount coupons, maps, QR codes, or anything else that helps build awareness and sales.
The layout of most rack cards is created with a vertical orientation, as that is how they are normally positioned in a display rack or counter-top holder for easy access by potential customers.
The standardized size of rack cards Rack card dimensions are typically 4" x 9", 3.5" x 8.5. It also allows a rack card to fit very well into a standard #10 business envelope, thus serving double-duty as a mailer insert.
Upload your design and order rack cards online or give Fotex a call at 858-228-7697 to have us create awesome customized rack cards for you.