Carbonless Forms Printing Online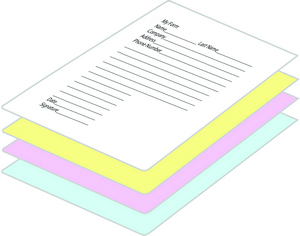 Carbonless forms are widely used for creating invoices, sales and purchase orders, proposals and receipts. They are also called NCR forms, because they are printed on "No Carbon Required" paper.
These forms are very helpful if you would like to keep the copy of your customer's information and signature for your records. They are also used by drivers, delivery people and medical professionals.
Carbonless forms printed by Fotex can contain from 2 to 5 sheets. Forms are available in standard and custom color sequences to match your needs and company style.
Order professional carbonless forms online and customize them with your company logo and information to avoid generic look and feel.
Need help to design your carbonless forms? Contact Fotex at 858-228-7697 and we'll create just the product you have envisioned quickly and economically.