Marketing has been quite a challenge for all types of companies these days. With the digital age being at its largest, many companies are opting for solely digital marketing approaches. However, the most successful companies have a combination of both online and offline marketing strategies. Brochures are an exceptional marketing tool that companies are mistakenly neglecting. This blog will go over 5 reasons why your business needs an amazing brochure.
Why Use Brochures in the Digital Age?
Since we're in the digital age, many people believe that traditional marketing tools will no longer be beneficial with companies. However, those people are terribly wrong as brochures remain one of the top-performing traditional marketing tools around. Entrepreneurs should never underestimate their power. Here are 5 reasons why businesses should invest in brochure printing:
1. Cost-Efficient
When it comes to marketing, a significant amount of resources is required. That's why it's smart to go with cost-efficient options that will boost your marketing at the same time. At Fotex Print, we offer affordable brochure printing and flexibility. You can upload your own design or let our skillful designer team develop your brochure the way you want it. Fotex will save you time and money.
2. Provides Consistent Branding
An essential part of marketing is figuring out ways for your target audience to remember you. It's vital to make use of all communication channels when communicating your brand. One of the best ways to present your company and create brand awareness is with the use of brochures. Having a branded brochure will increase your credibility and professionalism. A recent study by Lucidpress shows that consistent presentations from tools such as brochures can increase revenue by 33%!
3. Tangible Reference for Later Use
One of the best aspects of brochures is that they are tangible. Tangible marketing tools are rare these days, making them more likely to be read and kept. Them being a tangible marketing material makes them a reference that customers are going to keep for a long time. It won't instantaneously disappear like an ad on the internet. It will remain until the customer disposes of it. However, if you create an eye-catching brochure design, potential customers are highly likely to keep it for a long time. You should never underestimate the power of a beautiful, unique brochure design.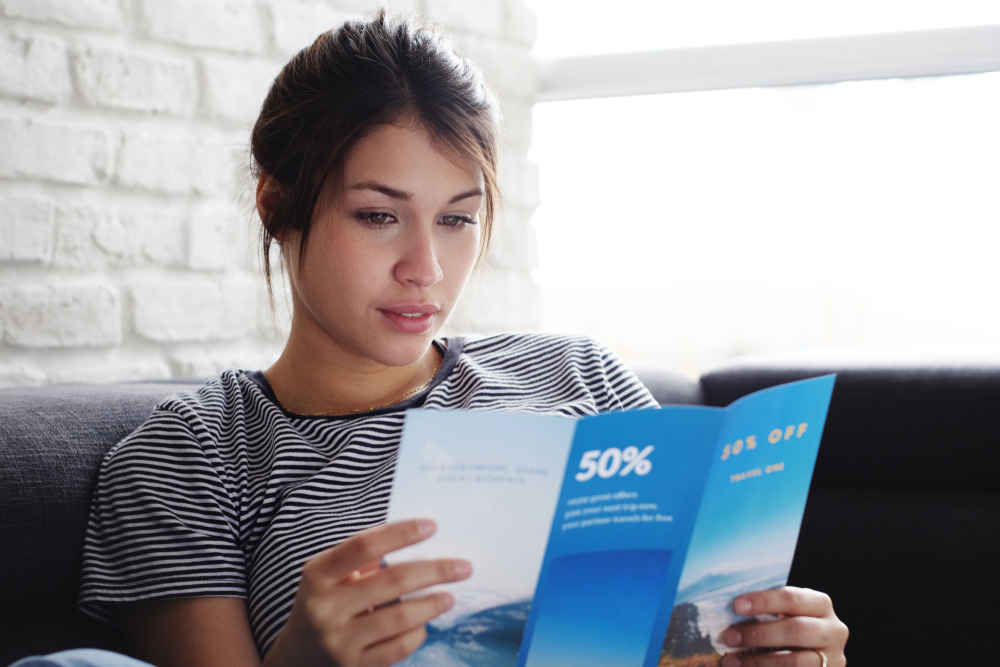 4. Multiple Distribution Channels
Brochures are relatively easy to distribute. There are multiple distribution channels for you to take advantage of, such as:
Placing them in display near reception areas
Placing them inside packaged orders
Sharing them at trade shows, exhibitions, and fairs
Handing them out to the public
Leaving some at Kiosks
Putting them in presentation folders
5. Easy-to-Read
Brochures are easy to read in nature. They allow potential customers to easily learn about your mission and major features. They notably outperform online advertisements. It's easy for customers to intuitively look through the brochure and look for the desired information since they know it's there, unlike online tools that can be more complicated, especially to older generations. Plus, they are one of the few marketing tools that provide the perfect amount of information. Since brochures aren't ads, they can cover a lot of information, such as:
The company's value and mission
Products
Services
Information
Specifications
Contact Info
Brochures are a hidden marketing gem that needs to be taken advantage of. They're cost-efficient, great tangible references, and excellent branding tools. We hope this blog helped you see why your business needs an amazing brochure. If you think it's time to print brochures for your company, give Fotex Print a call at 858-228-7697 or visit our website.