Printing custom menus is great if you are in the restaurant or food industry or if your company is hosting a special event with a meal. The benefits provided by custom menus will help set you apart from everyone else. This blog will discuss 7 great reasons to consider printing custom menus for your business or event.
Custom Menus Help Brand Your Business
One of the reasons you should start printing custom menus is to help brand your business and build recognition among consumers. You can add your restaurant, company, or event name and logo to the menu and use colors and design features that encapsulate your business. Your restaurant menu is a primary way to communicate your restaurant's brand.
Motivates Customers to Choose Higher Profit Items 
A big reason why printing custom menus is so popular is that they can help motivate consumers towards higher profit items. Unique design features bring the consumer's attention to higher profit items, increasing your profits, giving you a better return on your investment, and helping your business achieve success.
Creates and Maintains a Professional Appearance 
Well-designed customized menus that are professionally printed will help you create and maintain a professional image with your establishment's regulars. If you have generic, outdated, or unprofessional-looking menus, your sales will be affected, and you might not see as many customers return to your business.
Different Menus for Specials and Different Meal Options 
Printing custom menus allows you to create menus that reflect specials and how your menu varies during different times of the day. You can design a drink menu, a lunch menu, a dessert menu, menus for certain deals you frequently offer, and menus for the specials you offer each day of the week. Other printed menus could include a wine list, a dessert menu, happy hour options, or other specialty items. These supplementary custom-printed menus ensure consumers aren't bombarded with options all at once. They provide your consumers with choices to explore, which could lead to ordering more to try each item that piques their interest.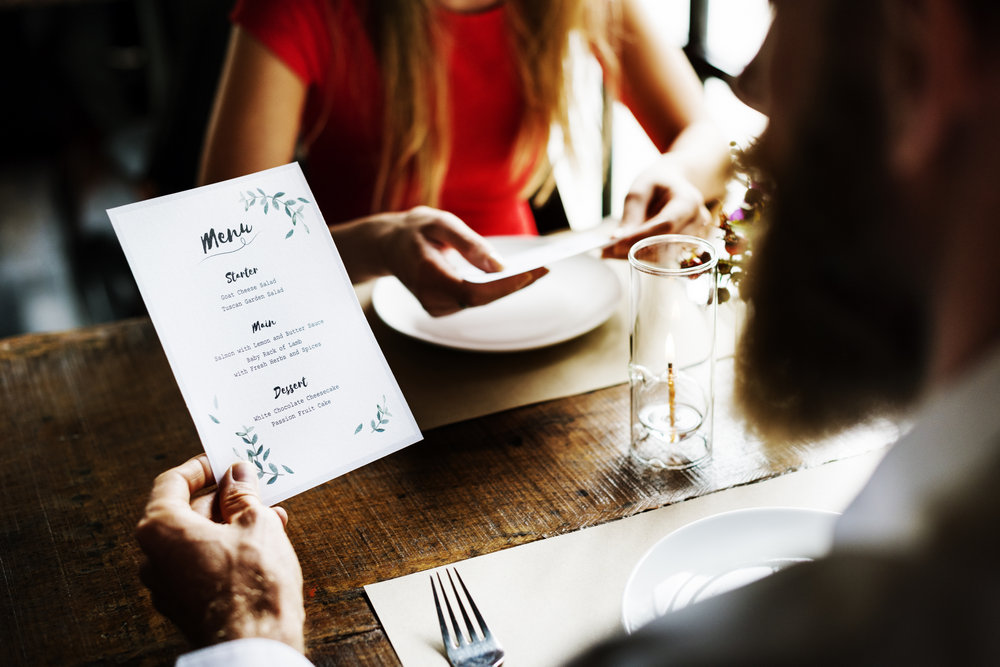 Maintains Cleanliness
One customization option you can choose for your menus is finishing. Ensuring your menus are clean each time they are placed in front of a new customer is very important. You can have them laminated so waitstaff can easily wipe them clean and sterilize them daily. Laminating your menus can significantly extend their life span, and you won't need replacements as often, lowering your expenses.
Makes Your Event Memorable
Printed custom menus have become popular for a meal at a special event, like a wedding, wedding anniversary, baby shower, or gala. Guests each receive a menu outlining the event's meal and drink offerings, so they know their options. A custom-printed menu can also be saved as a keepsake of the event.
You Create Menus That Are Attractive and Appealing 
When in control of customizing your menus, you can create what you know will be attractive and appealing to consumers. If customers find your menus generic or uncreative, you could lose revenue. You can prevent this by customizing your design to catch the eye and appeal to hungry individuals. You can take your restaurant or event to the next level by making them stand out with printing techniques like embossing, UV coating, or metallic inks.
Create and Print Menus with Fotex Print
Printing custom menus allows you to design a product you know will be perfect for your specific needs and preferences. You don't have to worry about limitations in images, colors, font, text, or other features. A well-designed, customized item will attract larger crowds and up your revenue. At Fotex Print, we offer assistance in design, layout, and printing to ensure your business has the printed materials it needs for success. If you want to print custom menus for your restaurant or event, call us at (858) 228-7697, or click here to start our easy printing process.